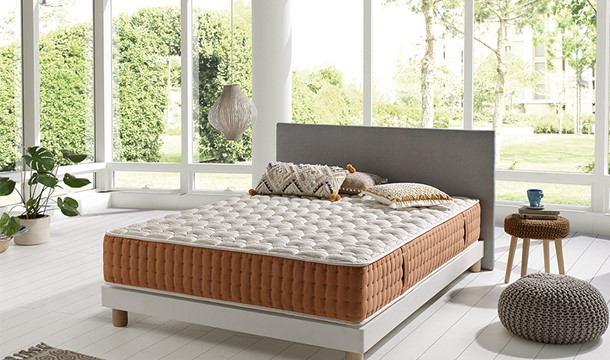 If we happened to stumble across an antique lamp containing a slightly unorthodox genie, one that would only grant us one wish, but it could be a big one, we'd wish the world was a little less frustrating on the choice front because not being able to cope with choice overload is super-stressful. Don't ask us why, but there's just something about making decisions that gets us all worked up, especially when it's those everyday, mundane choices you should be able to swat away like an exhausted old fly that just can't be bothered to bug you anymore.
It's choosing between a ribeye and a tenderloin steak at a restaurant. Deciding what to watch on Netflix. Answering your kid's innocent question of, "what's your favourite colour?" Picking up something from the supermarket for dinner. And then the root of all stress, the Drive-Thru, where you need to make a snappy decision in record time.
Well, we've got another one to add to the pile: trying to choose the best foam mattress to kip on.
Think about it. The pressure is huge. You're looking for the body-supporter of your dreams or, more specifically, one that will help you dream. A mattress that will happily wrap you up in a super-warm hug for 33% of your life. A mattress that's going to be worth every penny because you know there's nothing worse than spending a massive chunk of change on an undeserving slab of mattress.
Thankfully, we're in the business of selling you the best of the best on the bed front, and that means being obsessively committed to researching, testing, and recommending the best foam mattresses out there.
So, ummm, let's crack on with ye olde list, shall we:
For Seventh Heaven: The Simba Hybrid Mattress
This is the one. The overall winner. The one that will have you smiling on a Monday morning (even if it's just until you're in the car and on your way to work). Not only does it boast a unique combination of 2,500 conical pocket springs, the Visco memory foam moulds to your body shape. It's like a mattress that's been tailored to you. How groovy is that?! Basically, you'll sleep better, whatever your sleeping pattern.
For Cheap & Cheerful: The Signature Sleep Memoir Mattress
It's not just the fact your bank balance will be sleeping pretty that will give you a memorable night's sleep – it's the way these cheeky little beds are put together. On paper, they're just another memory foam mattresses. The difference is, they've been made with CertiPUR-US® certified foam, which means you're going to enjoy an uber-balanced support, no matter how much you toss and turn at night. The foam also moulds to the contours of your body. Ergo, you'll see the back of your back and neck pains. Cool, huh.
For A Clear Conscience: The Zinus Green Tea Mattress
We don't want to give you nightmares or have you waking up in cold sweats, but we need to be honest with you for a moment: some memory foam mattresses aren't awesome on the eco-front. They're not going to melt the polar ice-caps or vote for Trump in the next election, but they could do a bit more for the planet – like the Zinus Green Tea mattress. In a nutshell: it's built using natural plant oils where possible. And it's super comfy too. As for the name, it contains green tea extract and ActivCharcoal, which may sound proper-Shoreditch, but it will have you waking up smelling fresh, instead of stale and sleepy.
For An All-Natural Number: The Halcyon 3000 Mattress
Now, we could hire the copywriter that does all the M&S adverts to distract your with some word-porn, but what's the point when the facts are all you need: this mattress is made from 3000 pocketed springs, split into two layers of 1500 springs, and surrounded by layers of British wool, cashmere and silk filling, not to mention a layer of next-generation memory foam. Hmmm. Take that, word-blessed M&S man-slash-woman.
For More Than A Bit Of All-Right: The Lucid Plush Mattress
This isn't just plush. This is like sleeping in a cloud that has a marshmallow bottom resting on a bed of cotton wool. It's also proof that size does matter because, at 14-inches thick, you're about to enjoy the deepest sink ever. It's plush, upgraded. But here's the real bonus point: it's got a conforming layer of gel-memory-foam that takes the pressure off your pressure points, meaning you'll get a grand night of peaceful snoring, without waking up with numb arms. Oh, and it's also great for those that have bigger bodies. It's just so supportive – physically, mentally and probably emotionally too.
For The Big Spender: The Kaymed Synergy 2500 Mattress
The white-lab-coat-wearing chaps that designed this mattress would probably describe this one as: the Therma-Phase™ Synergy 2500 mattress with an equivalent of 2500 pocket springs, combined with a layer of the Therma-Phase™ Visco-elastic material for superb support and pressure relief. Then, upon seeing your face contort involuntarily with confusion, they would probably tell you that Therma-Phase is a pressure relieving high density material, that contains unique phase-change crystals and copper particles, which sounds good but doesn't clarify much How we would describe this mattress, however, would be: the newest model from the forever award-winning Kaymed beds that is melt-your-mind comfy.
It's true, mattress-picking knowledge is power, and you've now been blessed with it. Woo-woo.
Thanks for reading! For more sleeping tips and bed buying tricks, follow us on Facebook and start stalking our bedroom design ideas on Instagram. Who knows, you may even pick up some pub quiz knowledge along the way, and nothing is better than that.
From the Copper Milk Creative team.