About Us
In 1905 a young, aspiring salesman, Harold Nichols, left a comfortable position with a large department store in Birmingham. Born in Earlham, outside Norwich he had travelled to Birmingham to learn his trade there and had managed to save £100 pounds from his meagre salary to fulfil his dream; his own shop. Cycling back to Norwich, he happened upon a leasehold in Cambridge, dismounted and purchased it that same day.
The next few years were hard, with him sleeping under the counter and only allowing himself a 'sixpenny' ticket to the theatre once a month. He decided to call the shop Belfast Linen rather than the normal Nichols & Sons, as he wanted to associate himself with the finest quality linen warehouses, renowned all over the World at that time.
Modern marketing over a century ago!
All shopkeepers used to wait by their front doors to welcome customers inside and when a carriage and four stopped outside and a Lady bought her entire linen cortège from his shop, many envious faces were to be seen from fellow shopkeepers. Where the gentry shopped, others followed and by 1914 he had expanded to two stores, another in Kings Lynn.
Due to his love of horse riding, he had been in the East Anglian reserves, so was called up for King and Country immediately. The cavalry were quickly seconded to the artillery and he spent all four years of the first World War with the 'big guns'- leaving his business, with some trepidation, to his youngest Sister, the only one not married. Miraculously, he survived and returned to find his business had flourished under that 'feminine touch'.
He purchased two more shops in Bedford and Oxford and Maddie and her offspring ran parallel Belfast Linen that lasted until 1968 with branches as far as Cardiff.
This Belfast Linen grew to five stores until in 1939 the Second World War disrupted trade. Two sons Douglas and Kenneth fought as Spitfire pilots in that conflict. The business was halted as rationing meant no stock to sell. Harold had the foresight to board up his remaining goods and it was this surplus that enabled the business to resume trading in 1946, when blankets and sheets were impossible to find on the High street.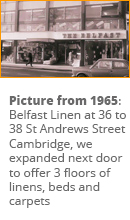 Douglas operated the purchasing and Kenneth administered the finance. It was a winning combination and by 1968, when Douglas died, the business had grown to 7 shops, all in East Anglia. Southend saw the birth of Restwell Beds, our own manufacturing company during the fifties and sixties.
In 1971 the next generation of Nichols's joined, Peter and Harry, and the business continued to flourish until by 1990 the company was turning over in excess of £10, 000,000 out of 20 stores. It was during the property boom of the nineties that the company changed direction once again, to become mainly a property company. The era of the 'linen cupboards' and 'specialist furnishings' having been superseded by out of town 'hypermarkets' and eventually 'internet shopping'.
Alexander Nichols now runs the company and this business alone has a grown, well secured by the financial stability of the principles of the old company and built with the same 'good value' and 'best quality' which has been the backbone of Family fair trading for over 100 years. Purchase with confidence – as the good Lady did in her carriage and four.